I'm linking up with Kristin at
A Teeny Tiny Teacher
and Hadar at Miss Kindergarten for this fun blog post:)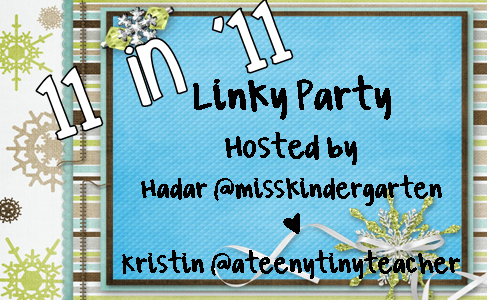 11. Favorite Movie you watched - Breaking Dawn, Part 1. I LOVED the books, and this was by far the BEST movie in the Twilight series yet!
10. Favorite TV Series - Modern Family. I got Season 1 on DVD for my birthday, watched all of season 1 in 3 days, and I couldn't wait for Season 2, which I got for Christmas, SCORE! In the mean time, I'd been watching Season 3 on TV. LOVE LOVE!
9. Favorite Restaurant - Between living in Northern WI, traveling to see my boyfriend who lived in 2 different major cities in Southern WI through out the year, and my parents living in IL and his in MN...I have a lot to choose from...
Cafe Hollander in Milwaukee. Yummy brunch:)
8. Favorite new thing you tried - Using a n iPad. Our school purchased a set of these, and I LOVE them! This is definitely on my list of future big purchases. I LOVE Apple products. The iPad is so easy to use, the kids love the learning games, and it makes a great reward. Plus my dad thinks Talking Tom is hilarious!
7. Favorite gift you've received - xBox 360 and Kinect! I got it for my birthday from my fantastic boyfriend and my awesome parents and brother. I love Dance Central...which you can dance battle at the same time as your opponent now, with Dance Central II! Anyone have Zumba or Wipe Out? I'm thinking about getting another new game.
6. Favorite thing you've pinned - I pin soooooo much, I could not possibly pick one that is my favorite. One of the funniest pins I've seen, I didn't even repin because I didn't have a board that it fit on...but I took a picture of the pin...Harry Puppy...a puppy dressed like Harry Potter. Then I saw Harry Penguin...I thought it was funny:-D
You can come follow me...
5. Favorite blog post - My first freebie. I was so excited that I had finally learned how to post a document on my blog, not to mention that I had created something that I felt was worthy of sharing with others.
4. Favorite Accomplishment - Completing my first 10k. I have truly developed a love for jogging this year:)
3. Favorite Picture - I have definitely slacked in the picture taking department this year. I haven't seriously scrapbooked in about 4-5 years. That being said, my favorite picture of the year was probably one of B and I from our "photo shoot" when he received his white coat for med school. I'm very proud of all the hours he puts in to studying, and he still works hard to make our long distance relationship work.
2. Favorite memory - Another hard one....Valentine's Dinner at a very fancy Milwaukee Restaurant, getting an iPhone, camping in the Dells on one of the hottest nights ever, going to B's family's cabin....
1. Goal for 2012...
-workout regularly
-create more freebies to share in blog land
-decrease time spent on Facebook
-increase time spent with loved ones